"And we know with great confidence. that God, who is deeply concerned about us, causes all things to work together as a plan for good for those who love God, to those who are called according to His plan and purpose."- Romans 8:28 (Amplified Version)
Everyone handles challenges in life differently. Some believe in retail therapy, while others indulge in their favorite comfort food. Avoiding confrontation was Angeline's coping mechanism for the challenges she encountered at work. As an urban planner, she worked in private firms and public agencies for over 20 years. Her job entailed dealing with professionals, law makers and citizens. Over the course of her career Angeline experienced some highs, such as successfully completing controversial projects. As well as lows of enduring workplace bullying.
Workplace bullying, as defined by the Workplace Bullying Institute is, "the repeated, health- harming mistreatment of one or more persons (the targets) by one or more perpetrators." It is abusive conduct, which is threatening, humiliating and intimidating, and includes work interference – sabotage – preventing work from being done or verbal abuse.
It's safe to say many of us have experienced bullying in some way, shape or form. It can be cyberbullying, workplace, family, school or peer pressure. Many people, children, teenagers, and women have a difficult time overcoming the devastating effects of bullying. Tragically, some victims of bullying turn and become bullies themselves!
Angeline initially tried to deal with workplace bullying by avoiding the individuals who targeted her. When she had issues with a co-worker, she retreated into her cubicle. However, when her work was sabotaged by misplacing reports and missed deadlines, she was forced to deal with the bullying directly. After all, her professional reputation was in jeopardy and she could not hide in her office hoping it would go away. 
When we change the way we look at things, the things we look at change.
On this episode you'll hear how the plot twisted when Angeline dealt with the bullying when she embarked on a transformational journey, which positioned her to be an agent of change in the workplace instead of a victim. Her faith in God was the foundation she used to create a system of tools and techniques to overcome workplace bullying. Today she is empowering Christian women, equipping them with the tools and strategies to be positioned for power in the workplace.
A mother of six, wife, minister and author, Ms. Lawrence understands the need for education and leadership. Angeline served as the first Chairperson for the Enterprise Entrepreneurship Institute (E2i) program, a training initiative of the Michigan Black Chamber of Commerce, the largest Black Chamber in the country. She used her experiences to launch a consulting firm, which provides contract management, project management, program development and technical writing services to small businesses. Angeline is proof that testing situations can become testimones that empower others.
Whatever challenge you may be going through, it can change.
Know that we can be victorious over life's challenges, instead of going through life with a victim mindset.
Recommended resources related  to this episode: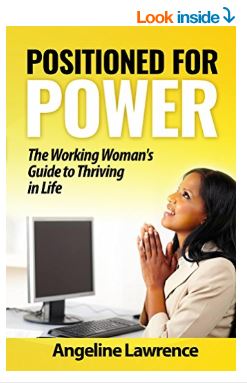 ---
Have your say, share your thoughts below.