"You don't need unique ingredients, you need a unique recipe."- Derek Halpern
Businesses exist to solve their client's problems. Building a profitable one starts with getting clear on who your ideal clients are what problems you will help them solve.
You can have the best solution, but if you're the worlds best-kept secret, you do your potential clients a disservice and end up having an expensive hobby instead of a profitable business. Once you get clear on your ideal clients, and their problems, position yourself so that those clients find you. That's what today's episode is about. We look at how to build our audience so we can effectively serve them. One way to do this is by creating valuable content, also known as blogging.
Often when people hear the word "blogging" they think of long-winded articles with a picture or two to break the text monotony. But did you know a podcast like this one with show notes also falls under content and works well as a blog post? Blogging is still one of the most cost-effective ways to grow your audience. It' a great strategy because Google search engines LOVE fresh content. So, when they come crawling your site and see your new posts, you're more likely to rank higher, (if you also tweak your keywords)
But one of the reasons we don't blog consisntently is the dreaded writer's block. Have you ever found yourself staring at a blank screen for hours? Horrible. I know. Been there too. That's why I created a resource you can whip out on those I-don't-know-what-to-write days. It's designed to get your creative juices flowing again. Snag your blogging ideas checklist and keep it handy. Just-in-case... Did I mention its free? :-)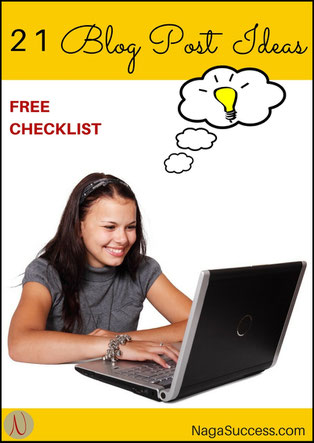 On today's podcast episode we look at how to grow your audience using 5 simple digital strategies so that you get more leads and convert sales. The strategies are:
1. Blog and repurpose your content into formats your ideal clients consume.
2. Make it easy for your audience to help you go viral with share buttons.
3. Not all Social Media platforms are created equal, be strategic.
4. Collaborate and network with your niche peers, it's a win-win.
5. Beyond the lead magnets and opt-ins, conversion strategies.
Ready to up your content game beyond the 5 tips and freebies? Today's strategies are part of my resource with 52 powerful, proven strategies to grow your audience online. You'll be covered for a full year, with simple, but proven and effective strategies you can implement every week. No more wasting time googling how to grow your audience. I've done all the hard work for you.
Recommended resources mentioned  on this episode:
---
---
Have your say in the comment section below.